PRESUS® (Pharmacy Real-time Support System)
Changing the future of pharmacies
PRESUS®, a support system for dispensing pharmacies.
What is PRESUS®?
PRESUS® is a system that supports dispensing pharmacy operations in real time.
More specifically, it combines two elements: systems for supporting the operations of dispensing pharmacies and information systems covering the automatic ordering of drugs, the medical history of patients, the calculation of compensation for drugs, etc. In addition, the MEDIPAL Group has its eye on the entire pharmaceutical supply chain, from drug manufacturing companies to consumers.
PRESUS® is a system that has advantages, not only for pharmacies, but also for patients as well.
It helps to improve the quality of service that dispensing pharmacies can deliver to customers, by simplifying workflow, and reducing and preventing errors and out-of-stock. Improving efficiency in head offices and branches leads to higher profitability.
For patients, this means shorter waiting times, fewer mistakes, and greater safety and peace of mind in pharmacy services. Pharmacists have more time to interact with their patients, and can offer more-nuanced consultation services.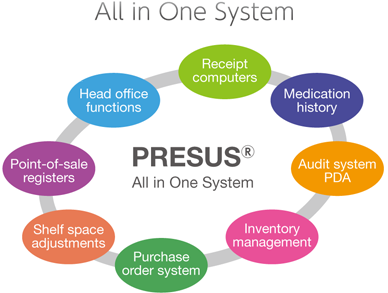 Effectiveness of PRESUS®
The use of PRESUS® has reduced out-of-stock incidents by one-fifth to 0.6%, cut prescription preparation time by 15%, reduced near-misses by 50%, shrinked time needed for orders, and lowered the need for emergency deliveries of medicines by 80% (for insurance dispensing pharmacy groups Yakuju Corp.).
Providing safe prescription services that offer peace of mind, contributing to the efficient operation of pharmacies, realizing benefits for patients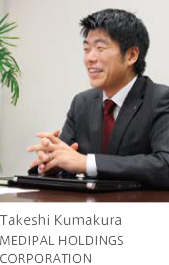 PRESUS®is a system that engages all aspects of pharmacy operations. It is then possible to analyze all the data that emerges from this process. This is changing the dialog with pharmacists into one that is more tangible and quantifiable, for the more-efficient operation of pharmacies.
In addition, we use computers to keep tabs on customer inventories, automatically ordering the optimum quantities of specific products. For us, variability in the distribution process is improving through standardization, and this is helping to keep costs down.
Demand forecasting is allowing for greater accuracy in ordering. This reduces the risk that a pharmacy will be caught out-of-stock of a given product, creating greater certainty for patients that they will be able to get the medicine they need from the pharmacy.
It also makes the pharmacist's work more efficient, so he or she can provide services that are safer, with greater peace of mind. This creates additional time for communicating with patients, and we think this is a big advantage.