Our Approach to CSR
Basic Approach
The social mission of the MEDIPAL Group is to reliably deliver the products people need, when they need them. To fulfill this mission, the MEDIPAL Group believes that establishing a solid business structure is the first step in CSR. We have set six CSR categories – compliance, pharmaceutical management, disaster planning, information management, respect for human rights and environmental conservation – and conduct risk management for each of them.
In the MEDIPAL Group, we define CSR as "Conducting business activities with consideration for the economy, society and the environment so that by perpetually growing, the companies that make up the MEDIPAL Group will realize the Group's management philosophy, and the results of those activities will rightfully benefit society." This definition is based on the "triple bottom line" concept, which evaluates business performance from environmental, social and economic perspectives.
While managing risk, we are aware that a company is also a member of society. With a shared understanding, we will broaden our CSR efforts throughout the Group to ensure the ongoing trust of our stakeholders.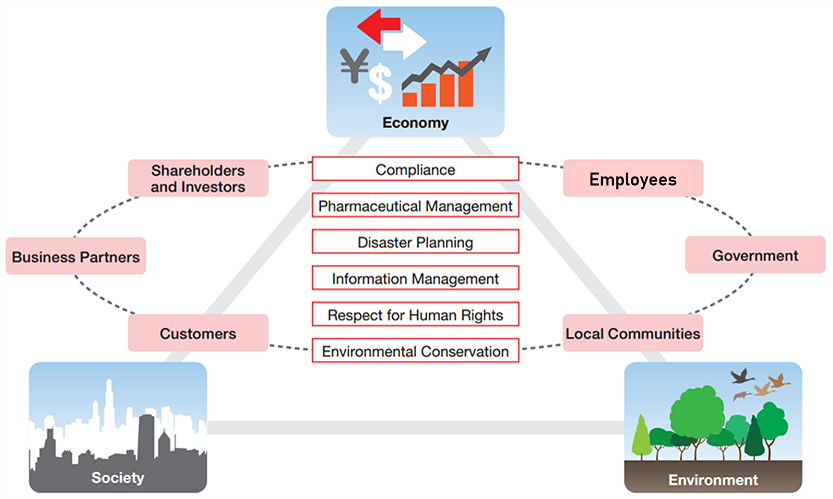 CSR Slogan: Delivering Energy and Brightness
The MEDIPAL Group has adopted "Delivering Energy and Brightness" as its CSR slogan because delivering "Energy and Brightness," our corporate slogan, will lead to the realization of our management philosophy.
CSR Promotion Structure
To promote a shared understanding of the MEDIPAL Group's CSR, we hold the CSR General Meeting primarily for the chairmen of the CSR committees of Group wholesale operating companies, and carry out CSR initiatives as a group.
Matters decided at the CSR General Meeting are later implemented as specific activities led by the CSR committees of each Group company.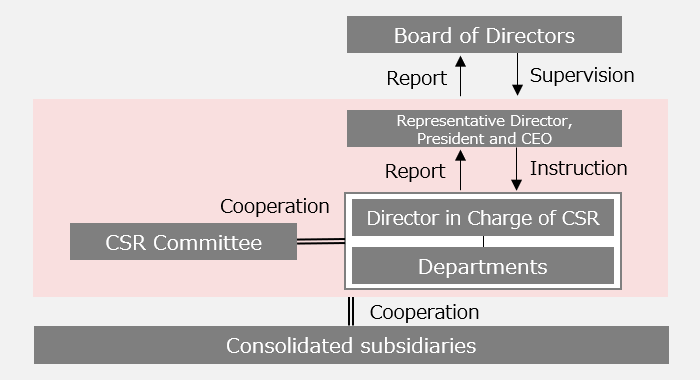 Note:The MEDIPAL Group's CSR applies to the following seven Group companies, unless otherwise specified. MEDIPAL HOLDINGS CORPORATION, MEDICEO CORPORATION, EVERLTH Co., Ltd., ATOL CO., LTD., MM CORPORATION, PALTAC Corporation and MP AGRO CO., LTD.