PMS(Post-Marketing Surveillance)
MEDIPAL Creates New Businesses
Contributing to Safety and Peace of Mind through PMS
Implementing Post-Marketing Surveillance (PMS) through the MEDIPAL Medical Institution Network
PMS is a form of investigative research that aims to ensure the quality, effectiveness, and safety of pharmaceuticals and medical devices after their launch into the market.
After pharmaceuticals have passed clinical trials and have been approved by the national medical authorities, they are marketed. However, clinical trials are conducted on only a relatively small number of patients, and the data they provide are limited. For this reason, after marketing begins, information and data on a larger number of patients are very important. The role of PMS is to promote the proper usage of pharmaceuticals by gathering such data and make it possible to know about new uses for pharmaceuticals and their possible side effects.
The MEDIPAL Group draws, to the maximum extent possible, on the relationships of trust it has built with medical institutions through its activities in distributing pharmaceuticals and on the professional knowledge of specialists to undertake a portion of PMS activities. These include the post-marketing research from pharmaceutical companies and research on usage results.
The MEDIPAL Group does not just deliver pharmaceuticals to medical institutions, but also extends its activities to new initiatives that include patients and PMS.
Drawing on the strengths of the MEDIPAL Group to develop new businesses that contribute to medicine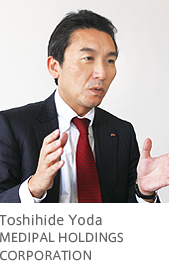 Through PMS activities, wholesalers are able to make more in-depth contributions to medicine. Also, by drawing on our strengths that include our nationwide networks and link personnel with specialist knowledge and skills, we are able to diversify our sources of earnings to include business activities other than wholesaling.
In day-to-day activities, wholesalers are able to remain in contact with doctors. Among wholesalers, only the MEDIPAL Group has management systems and personnel for research that are comparable to those of Japan's leading pharmaceutical manufacturers. If we realize that, as a result of progress in the field of medical science, epoch-making pharmaceuticals may be developed in the years to come, and PMS activities should become even more necessary than they are now. For medical care that offers safety and peace of mind, PMS activities are a new role for wholesalers, and will offer new opportunities for us to expand our business activities.