PFM® (Project Finance & Marketing)
PFM®, development and reliable supply of new drugs for rare conditions
PFM® is the MEDIPAL Group's own business model where we invest in drug manufacturers' efforts to develop new drugs, and earn returns when those drugs are launched on the market (project finance). It also allows us to give priority sales and distribution (marketing) to specific healthcare institutions.
Currently, PFM® covers sales of 10-20 products.
In September 2015, the Ministry of Health, Labour and Welfare approved JCR Pharmaceuticals' TEMCELL® HS injection, a treatment drug for acute graft-versus-host disease (acute GVHD)* for post-hematopoietic stem cell transplantation, Japan's first approval of a regenerative medicine that was developed elsewhere.
This drug has to be stored at ultra-low temperatures below -150℃. With future expansion of regenerative medicine in mind, the MEDIPAL Group has been building new facilities for storing and shipping drugs like this.
Going forward, the MEDIPAL Group hopes to make use of its sales and distribution network and other business resources as part of its efforts to ensure the reliable supply of drugs to patients who suffer from rare diseases.
*GVHD is a set of serious complications following hematopoietic stem cell transplantation, which is a treatment method for leukemia, etc.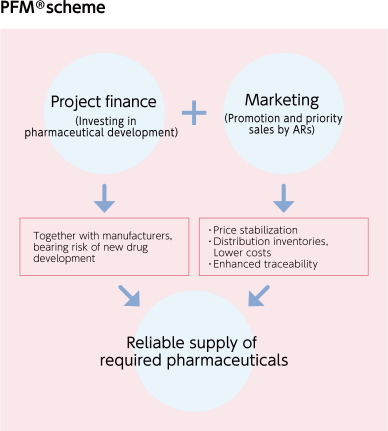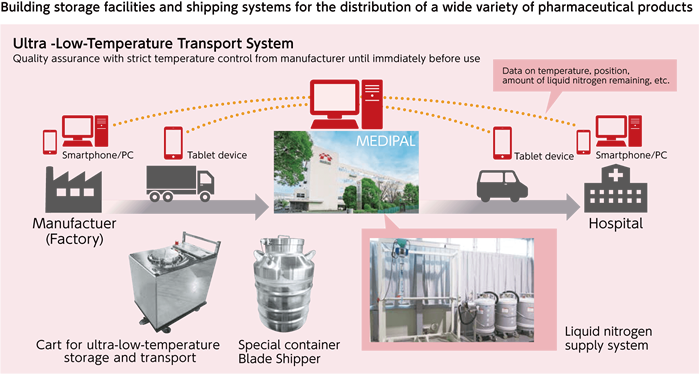 Developing a business that is of value to society, by leveraging our unique strengths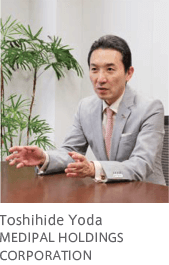 MEDIPAL's Medium-Term Vision for 2019 makes clear our business strategy. At its root is our idea to "develop a business that is of value to society."
Regarding PFM®, we are making use of the platform that is one of our Group's unique strengths, taking on the development, reliable supply, and wholesaling of pharmaceutical products for rare diseases.
This is useful for patients who are awaiting treatment, and this enhances the value of our business.