Environmental Initiatives
The MEDIPAL Group undertakes initiatives to conserve the environment as a business that contributes to people's health. We are taking various steps such as reducing greenhouse gas emissions to help prevent global warming and promoting recycling to help create a recycling-oriented society. Our goal is a sustainable society. As a corporate group that delivers "energy and brightness," we will continue to carry out activities that contribute to conserving the global environment.
Introduction of Vehicles with Low Environmental Impact
The MEDIPAL Group is introducing environmentally friendly company-owned vehicles, including light vehicles with excellent fuel efficiency and low CO2 emissions. This stops CO2 emissions per company-owned vehicle from rising significantly.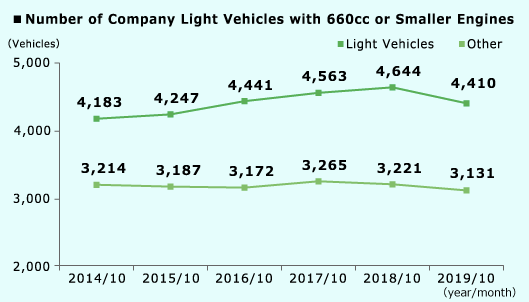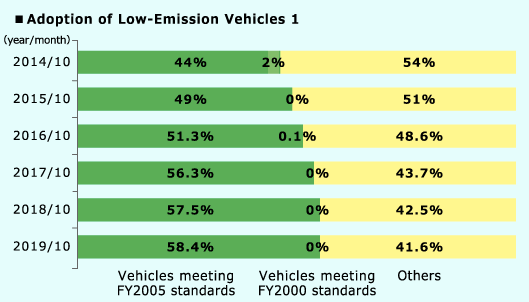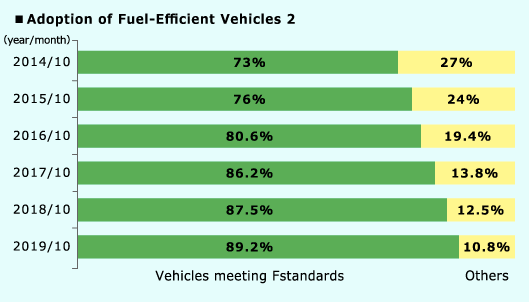 1. Low-emission vehicles: Vehicles that meet technical indicators for emission cleanliness as shown by performance, regardless of fuel type, according to the low-emission vehicle certification system of the Ministry of the Environment
2. Fuel-efficient vehicles: Vehicles exceeding fuel economy standards based on the Act on Temporary Measures for Promotion of Rational Use of Energy and Recycled Resources in Business Activities (Energy Saving Act)
■CO2Emissions
Year Ended March 31
2014
2015
2016
2017
2018
2019
Fuel consumption (KL)
12,008
12,014
11,939
12,431
12,245
11,657
CO2 emissions (t-CO2)
27,879
27,892
27,718
28,862
28,428
27,109
Number of vehicles
(as of October)
7,397
7,434
7,613
7,828
7,865
7,541
CO2 emission per vehicle
3.77
3.75
3.64
3.69
3.61
3.59
Note: Formula for calculating CO2 emissions:
Fuel quantity (KL) × 34.6 (GJ/KL: Calorific value per unit) × 0.0183 (tC/GJ: Emission factor) × 44/12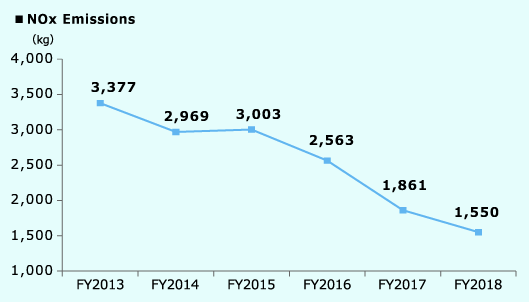 ■CO2 emissions from facilities
| FY2014 | FY2015 | FY2016 | FY2017 | FY2018 | FY2019 |
| --- | --- | --- | --- | --- | --- |
| 23,961(t-CO2) | 22,949(t-CO2) | 24,549(t-CO2) | 23,491(t-CO2) | 21,754(t-CO2) | 20,820 |
Implemented at:
MEDICEO CORPORATION, EVERLTH Co., Ltd., ATOL CO., LTD. and MM CORPORATION
Working to Further Reduce Electric Power Consumption
To reduce electric power consumption, we have installed inverter lighting systems and motion sensor light switches and frequently clean air conditioning filters. In addition, Group companies have been making efforts to cut power consumption further in response to the recent electric power shortages.
Measures include:
Reducing and removing light fixtures (incandescent light bulbs and fluorescent lights)
Restricting elevator use (use stairs for three floors or less)
Turning off computers when away from desk for long periods
■Power Usage of the Entire Group
| FY2014 | FY2015 | FY2016 | FY2017 | FY2018 | FY2019 |
| --- | --- | --- | --- | --- | --- |
| 9997.3(10,000kWh) | 9993.2(10,000kWh) | 10716.7(10,000kWh) | 11073.2(10,000kWh) | 10894.9(10,000kWh) | 10189.4(10,000kWh) |
Waste Disposal Manual
As a distributor, the MEDIPAL Group actively promotes reduction and proper disposal of waste in accordance with relevant laws, including the Basic Law for Promoting the Creation of a Recycling-Oriented Society.
We have produced a manual on proper waste disposal, which contains information on waste disposal procedures with a focus on pharmaceuticals. Based on this manual, we dispose of waste appropriately, in accordance with law.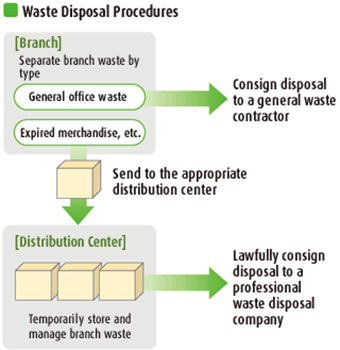 Implemented at:
MEDICEO CORPORATION, EVERLTH Co., Ltd., ATOL CO., LTD., MM CORPORATION and PALTAC Corporation
■Effective resource utilization
MEDICEO CORPORATION tabulates paper usage counts by multifunction printers, and strives to reduce paper waste. It is reducing paper consumption by promoting dual-sided printing and working to utilize resources effectively.
Introduction of a Recycling System for Confidential Documents
To create a recycling-oriented society that restrains consumption of natural resources and reduces its impact on the environment, the MEDIPAL Group has cut back on the use of shredders to facilitate paper recycling, and is introducing a confidential document recycling system with locked recycling boxes. Confidential documents disposed of in these boxes are recycled by a professional contractor into cushioning and other materials.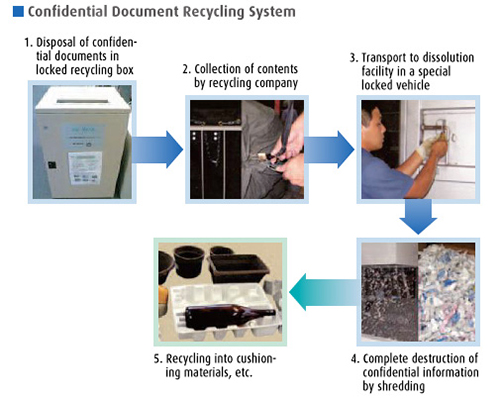 Working to Conserve Energy in Distribution Operations
PALTAC Corporation is taking measures to raise shipping efficiency to reduce CO2 emissions. Specifically, it has been consolidating distribution bases and revising delivery routes to improve the load efficiency of delivery vehicles.
As a result, Paltac has substantially exceeded the medium-to-long-term annual reduction target of 1 percent*1 for energy intensity, a standard used in efforts under the revised Act on Temporary Measures for Promotion of Rational Use of Energy and Recycled Resources in Business Activities (Energy Saving Act), enacted in April 2006.
In addition, a project to reduce CO2 emissions by consolidating distribution bases in Kanagawa Prefecture in the fiscal year ended March 31, 2011 was recognized as a Green Logistics Partnership Dissemination Project*2 by the Ministry of Land, Infrastructure, Transport and Tourism and the Ministry of Economy, Trade and Industry. Paltac will continue its efforts to increase the efficiency of and optimize the distribution chain, including manufacturers and retailers.
1. For the five year-period ended March 31, 2011
2. Green Logistics Partnership Dissemination Projects: Initiatives aimed at reducing CO2 emissions in the distribution field through cooperation and collaboration between shippers and distribution businesses. Sustainable "dissemination" projects with substantial ripple effects.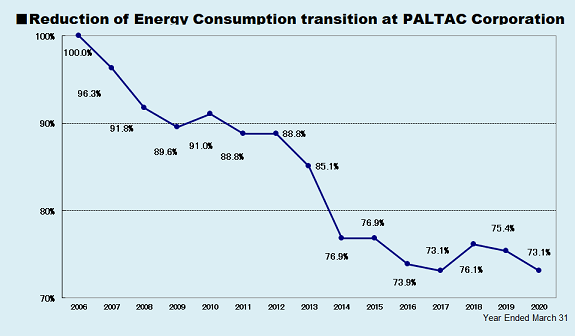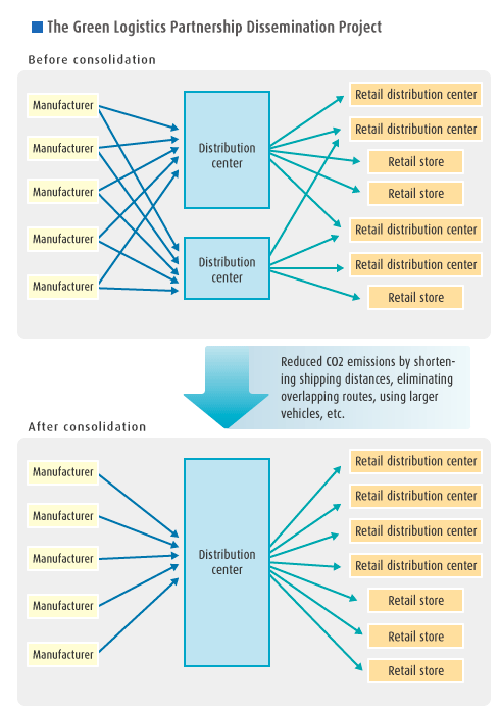 Implemented at:
PALTAC Corporation
Recycling Compacted Cardboard
The large volume of cardboard waste generated every day at the regional distribution centers (RDCs) of PALTAC Corporation and area logistics centers (ALCs) of MEDICEO CORPORATION is compacted in balers. (The process from compaction to baling and discharge is automated.)
After being compacted into a cube, the cardboard is collected by waste paper companies for recycling as toilet paper and other products.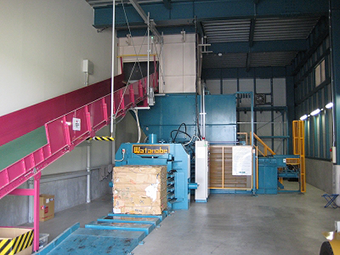 Cardboard box baler (PALTAC Corporation's RDC Sakai)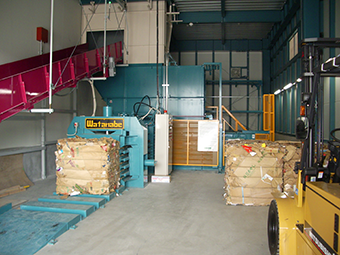 Implemented at:
MEDICEO CORPORATION, ATOL CO., LTD. and PALTAC Corporation