Information Management
The MEDIPAL Group handles various types of information, including the personal information of customers. Managing and protecting this information is one of the MEDIPAL Group's social responsibilities. In addition to physical measures such as systems hardware, we believe it is important to educate employees who handle information, and therefore take both physical and procedural measures to ensure thorough information security.
Information Security Policy
We have established an Information Security Policy for the MEDIPAL Group as the basis for information management. To promote thorough information management, we have also created an internal management structure headed by the Chief Information Officer, with administrators and other information management staff in each department.
Information Security Education
A top priority in information management at the MEDIPAL Group is the attitude of employees who handle information. Therefore, we conduct regular information security education through online training and other programs, have all employees periodically recite the Information Security Oath containing the key points of information security, and promote information security awareness through the Group's internal network.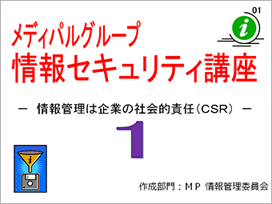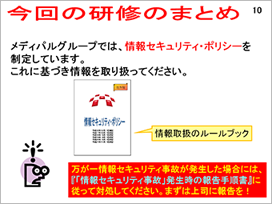 Security Measures Using Various Systems
MEDIPAL Group companies take various measures to protect information and prevent information leaks. These include anti-virus protection, prevention of unauthorized access and encryption of data on laptop computers.