Respect for Human Rights
In the MEDIPAL Group, we respect the fundamental human rights of employees and all others, and have taken steps to build a corporate culture of mutual acceptance. By making the most of the diverse characteristics and talents of our employees, we will enhance our corporate vitality and shape an environment in which everyone can work with energy and enthusiasm.
Diverse Personnel
In our recruitment activities, we seek to vitalize the MEDIPAL Group as a whole. We proactively hire diverse personnel including new college graduates, disabled people and retired employees, and allow them to exercise their individuality and strengths.
Active, Ongoing Human Resource Development
As expressed in the saying, "A company is its people," the growth of employees is essential for increasing corporate value. One of the MEDIPAL Group's management policies is to train creative employees, and we actively work to develop our human resources on an ongoing basis.
In line with this policy, each Group company conducts training according to age group and class.
In addition, we run self-development correspondence courses as a Group-wide training program.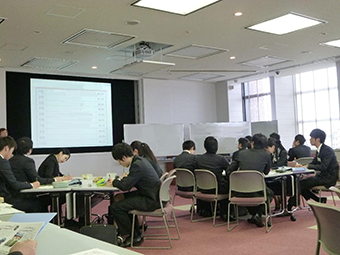 Human Resource Development Initiatives
Purpose
New employee training
To impart the basic skills and knowledge necessary as a member of society, businessperson and employee of the MEDIPAL Group
Junior and mid-level
employee training
To enhance motivation and impart the knowledge and skills necessary for work
Executive training
To impart knowledge related to management and human resource development
Correspondence courses
To promote skill upgrades tailored to individual needs in career formation
Maintaining Peace of Mind in the Workplace
The MEDIPAL Group respects fundamental human rights and takes various measures to create a vital organization in which every employee can work with energy and enthusiasm.
Regulations to Prevent Harassment
Sexual Harassment and Human Relations Hotline
Comfortable Workplace Environments
The MEDIPAL Group creates workplace environments in which employees can work without sacrificing their own lifestyles and values, and provides support to help them lead healthy, fulfilling lives, both mentally and physically.
Balance between Work and Family Life
Employees Who Are Mentally and Physically Healthy
Welfare and Benefit Programs
No Overtime Day
MEDIPAL HOLDINGS CORPORATION, MEDICEO CORPORATION, ATOL CO., LTD. and MP AGRO CO., LTD. designate certain days as "No Overtime Days" on which employees are encouraged to leave the office at the official quitting time.
The No Overtime Day promotes work-life balance by giving employees more time to spend with their families or to pursue personal interests or studies. It also leads to improved work quality as employees do their jobs in a more planned, efficient manner. Saving electric power is another benefit, because having all employees go home at the same time reduces the usage of lights, photocopiers and air conditioners.
Implemented at:
MEDIPAL HOLDINGS CORPORATION, MEDICEO CORPORATION, EVERLTH Co., Ltd. ATOL CO., LTD. and MP AGRO CO., LTD.