Disaster Planning
The pharmaceuticals, daily necessities and other products we handle are essential to healthy lives. Providing a stable supply of these products is the MEDIPAL Group's social mission.
Based on that awareness, the MEDIPAL Group has prepared a business continuity plan (BCP) to fulfill its role as a social infrastructure business by ensuring a stable supply of products even in the event of a major disaster or pandemic.
Natural Disaster Risk Countermeasures
We have formulated an effective BCP and have established various measures based on risk assumptions focused on earthquakes, the largest natural disaster risk in Japan.
Disaster Response Manual (for Natural Disasters)
In April 2000, the MEDIPAL Group issued a manual containing specific information on anticipated damage, preparedness measures, business operations in times of disaster and organizational structures for emergencies. We thoroughly familiarize all employees with the manual, which was revised based on the lessons learned from the Great East Japan Earthquake.
Establishing Organizational Structures for Disasters
In the event of an earthquake of level 6 or greater on the Japanese Meteorological Agency seismic intensity scale, we immediately set up the MEDIPAL Group Disaster Headquarters,and quickly confirm the safety of Group employees and their families in the disaster area and the extent of damage, and implement various BCP measures led by the Disaster Headquarters.
Quake proofing and Seismic Isolation of Buildings
We have been carrying out quake proofing and seismic isolation of distribution centers and all our buildings to prevent damage to products and breakdown of distribution systems during earthquakes.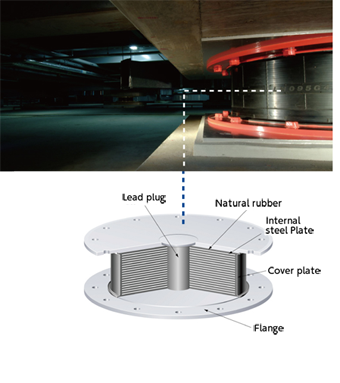 Seismic isolation structure
In-House Power Generators
We have installed in-house power generators at our main distribution centers and other key facilities to ensure our ability to deliver a stable supply of pharmaceuticals and other products in times of disaster.
●Key Buildings with In-House Power Generators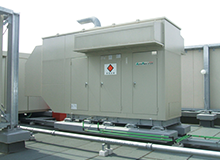 MEDICEO CORPORATION
Kanagawa ALC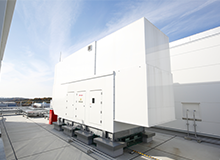 EVERLTH Co., Ltd.
Mitsu Distribution Center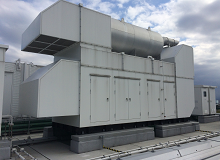 ATOL CO., LTD.
Fukuoka ALC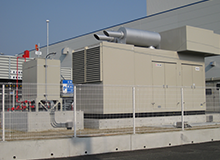 PALTAC Corporation
RDC Kyushu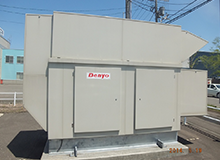 MP AGRO CO., LTD.
Head office
Installation of On-site Fueling Stations
Having experienced gasoline shortages in past disasters, we have installed on-site fueling stations at our major distribution centers.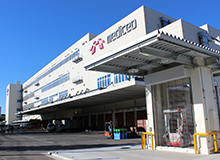 MEDICEO CORPORATION
Kanagawa ALC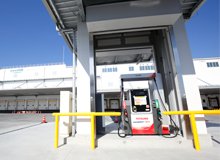 EVERLTH Co., Ltd.
Okayama ALC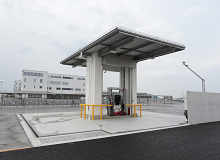 ATOL CO., LTD.
Fukuoka ALC
Communication and Delivery Procedures during Emergencies
Our key sites throughout Japan are equipped with emergency satellite phones to enable fast and accurate communication during disasters.
A videoconferencing system has also been installed to facilitate discussion of responses among Group companies even if movement is difficult.
Moreover, the MEDIPAL Group has deployed 120 motor scooters (50cc) primarily in the Tokyo area for emergency use in the event of a shutdown of public transportation and transportation gridlocks due to disaster.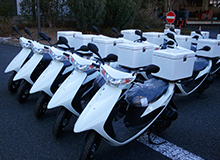 Emergency motor scooters
Prepared for Major Earthquakes, Storms and Flooding
The MEDIPAL Group has prepared for disasters such as earthquakes, storms and flooding by stocking disaster supplies at the head office buildings of MEDIPAL Group companies. In addition, communication and information equipment, office machines and other supplies have been prepared at the head office buildings of MEDIPAL Group companies.
At MEDIPAL HOLDINGS CORPORATION, emergency cabinets are installed in elevators in case people are trapped due to power outages or other accidents. Furthermore, to deal with traffic restrictions in the event of a large-scale disaster, we have completed advance registration of emergency vehicles to allow their passage under the Disaster Countermeasures Basic Act.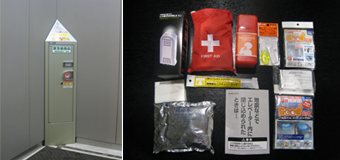 Emergency cabinet in elevator
Safety Confirmation System Introduced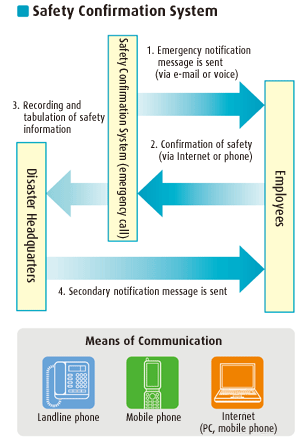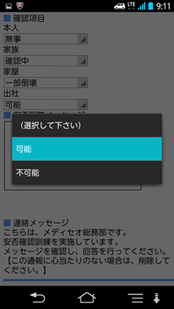 Safety confirmation system (screen image)
Disaster Prevention Measures for Information Systems
MEDIPAL Group companies take various measures to prevent data loss due to disasters in order to ensure that business can continue even if a disaster occurs. Measures include redundant host computers, data backup and implementation of earthquake, fire and power failure countermeasures in buildings that house host computers.


Measures during Epidemics of New Influenza Strains
In recent years, Japan has experienced frequent outbreaks of a highly virulent strain of avian influenza, and there have been concerns about a global pandemic in humans. The MEDIPAL Group has various measures in place to prepare for such epidemics. Moreover, the MEDIPAL Group is aware of its role in sustaining social functions, and has established action guidelines based on that role in order to fulfill its social mission during outbreaks of new influenza strains. While protecting the lives of our employees and their families, we do our best to maintain stable supplies of pharmaceuticals to support the disaster medical care of hospitals and other medical institutions.
Business Entities Involved in Operations Required to Sustain Social Functions
A. Health care professionals: Individuals involved in services a reduction or discontinuation of which may put people's lives at risk (health care professionals, emergency service personnel, pharmaceutical distributors, etc.)
B. Business entities involved in sustaining social functions
From the Guideline for Pandemic Influenza Preparedness at Business Entities and Establishments issued by the Ministry of Health, Labour and Welfare (revised July 30, 2008)
Code of Conduct and Manual for Controlling New Influenza Strains
After issuing a new influenza strain version of our Disaster Response Manual in September 2008, we made revisions to reflect the swine influenza pandemic of 2009 and the 2012 revision of the Japanese government's Pandemic Influenza Preparedness Action Plan.
We will set up a Disaster Response Headquarters if human-to-human transmission of a novel strain of influenza outside Japan is announced, and will activate our business continuity plan (BCP) when the Japanese government officially announces an outbreak in Japan.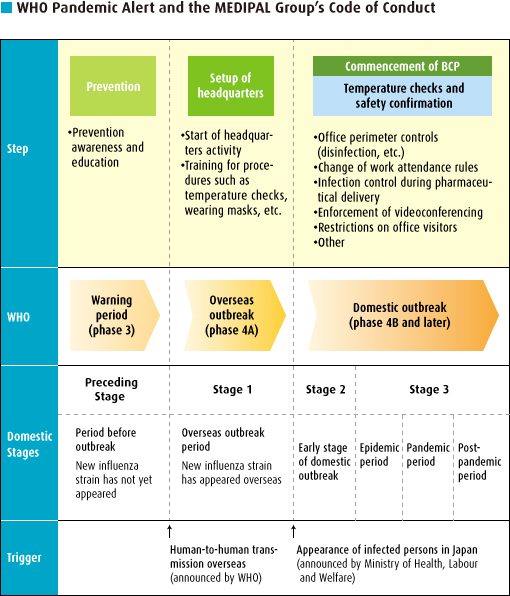 Implemented at:
MEDIPAL HOLDINGS CORPORATION, MEDICEO CORPORATION, EVERLTH Co., Ltd., ATOL CO., LTD., MM CORPORATION and MP ARGO CO., LTD.
Influenza Control Education and Vaccination
With a proper understanding of the characteristics of influenza, we take measures to raise prevention awareness among employees as well as our families, friends and acquaintances before the start of the flu season by emphasizing the importance of basic health management practices, including encouraging hand washing and gargling.
In addition, we encourage all employees to get vaccinations to prevent the spread of seasonal influenza. We also work to gather information so that we can quickly ascertain the extent of new influenza strain infections.
Emergency Contact and Reporting System
After a domestic outbreak of a new influenza strain, employees are required to undergo daily temperature and health checks. We use an at-home safety confirmation system to confirm whether or not employees or their family members have symptoms such as a fever, cough, chills or diarrhea. If anything is abnormal, restrictions are placed on the employee's attendance at work.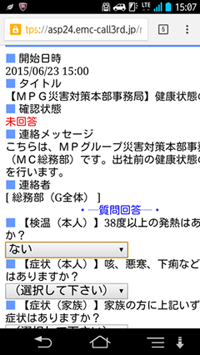 Safety confirmation system
for new influenza strains (screen image)
Stockpiling of Disinfection Materials and Prevention of Infection during Pharmaceutical Delivery
At each workplace, we stockpile supplies necessary in the event of a pandemic, as well as disinfection materials, protective clothing and other equipment to prevent infections.
Furthermore, we will wear protective clothing consistent with the infection risk level when visiting customers to avoid carrying infectious viruses either to or from their facilities.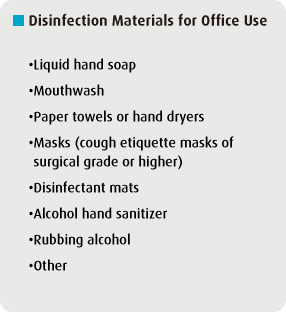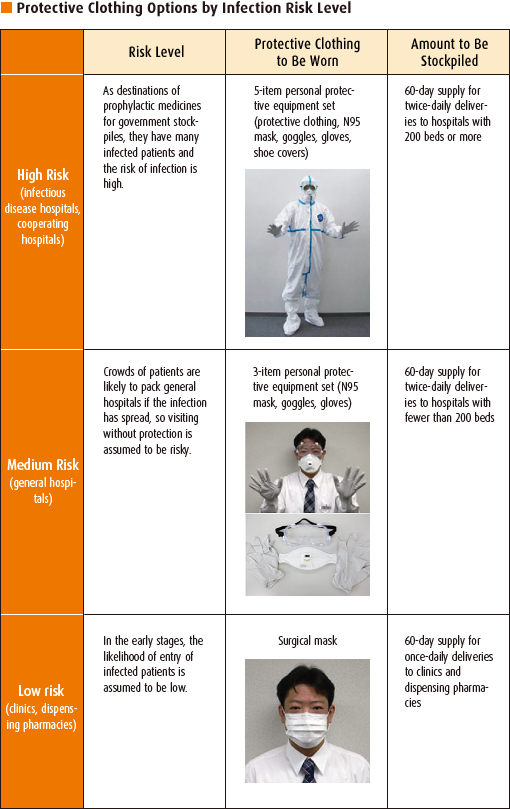 Implemented at:
MEDICEO CORPORATION, EVERLTH Co., Ltd., ATOL CO., LTD., MM CORPORATION and MP AGRO CO., LTD.
Workplace Health Management and Screening of Visitors
After a domestic outbreak of a new influenza strain, visitors to our facilities are asked to check their temperatures using disposable thermometers or other instruments before entering. Any visitor who shows an abnormal reading will be refused entry.
Employees are also required to undergo temperature and health checks every morning and afternoon. Any employee with a temperature of 38 degrees Celsius or higher, or symptoms such as a cough, chills or diarrhea is prohibited from coming to work.
In addition, alcohol hand sanitizers, disinfectant mats and other equipment are placed at the entrances of facilities for visitors and employees to disinfect their hands before entering. We also strengthen health management in the workplace by taking measures including providing employees and visitors with low permeability masks of surgical grade or higher for cough etiquette, and requiring them to be worn.